75% of leaders are missing out on an easy, yet critical, way to improve the retention of their team members. 
Only one quarter of leaders are conducting an annual career development discussion with their team members – one of the key coaching activities that decreases turnover. Indeed, our research indicates that team members who have an annual career discussion with their leader rate their likelihood of staying with their organization 36% higher than those that do not.
While the impact of a career development discussion can be profound, it's a surprisingly simple coaching activity to execute.  It's a once-yearly conversation with each team member to help them identify next steps to work towards their goals. Sounds easy, right? In spite of its simplicity, it's something the vast majority of leaders overlook.  (Click here to download our Career Development Discussion template.)
WHY CAREER DEVELOPMENT DISCUSSIONS ARE SO IMPORTANT
Conducting an annual career development discussion is something that truly sets apart top-rated leaders from their less successful peers. Recently, we surveyed 906 team members across 18 organizations, and we found that individuals who report to top-rated leaders (as indicated by their overall skill rating on our Coaching Effect Survey) are twice as likely to have had an annual career development discussion with their leader as those that report to bottom-rated leaders.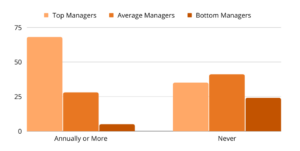 By holding these development discussions each year, top-rated leaders are not only driving better retention and helping their team members achieve their career goals, they are also creating more positive coaching relationships overall. Indeed, leaders who conduct regular career development discussions are rated more highly by their team members on every coaching behavior that we measure. Quite simply, career development discussions are strongly related to better coaching overall.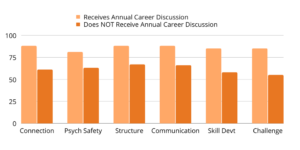 HOW TO MAKE CAREER DISCUSSIONS EFFECTIVE
To use career development discussions to improve team member retention and the overall effectiveness of their coaching relationships, Ecsell Institute has identified four steps that we recommend to all leaders we work with.
Use Specific Questions. Too often team members are asked generic questions such as "Where do you see yourself in five years?" during career discussions. Overly broad questions can be difficult for people to answer unless they've already know what they want to do in their career. Instead, use specific questions that help them think about the interests, passions and unique skills they can use to further their career.  For a complete guide including all of our recommended questions, download our Career Development Discussion template.
Do Discussion Pre-Work. Once you've selected your career development discussion questions, send these questions to your team members in advance of your conversation. By giving your team members time to consider your questions and their responses ahead of your meeting, you ensure they will have something to share. In addition, we recommend you to ask your team members to write down their thoughts on the questions you sent, so you can consider how you may want to respond to their goals or needs. Their written responses don't have to be elaborate—short sentences or bullet points are sufficient. By doing this pre-work, both you and your team member will be prepared for a productive discussion.
Help Create a Plan. During the discussion, your role is to help them create a written career development plan. By talking through their responses to your questions, you and your team member should be able to identify two or three areas where they'd like to develop to further their career. And try to stick to just two or three development areas, as pursuing too many at once can be overwhelming. Once you've identified their development areas, ask them to create a short, written plan that outlines the following:
The areas in which they want to further develop
The specific step(s) they will take to develop in those areas
People or resources that they need to develop in those areas
Target dates for completing these steps
Follow-Up Quarterly. After your team member has written their career development plan, use your one-to-one meetings to follow up with their progress once a quarter. Ask about the actions they've taken in the last ninety days. Ask if they're running into any challenges or roadblocks. Ask if there is anything more you can be doing to help them reach their goals. The key reason for doing this follow-up is to help hold your team members accountable for their career development. It's easy for day-to-day work to take precedence over longer-term career development. Without you as an accountability partner, they're more likely to put it on the back burner.
Having annual career development discussions is not a time-consuming coaching activity, but it is one that can have a big impact. If you want the improved team member retention and overall coaching relationships that come from regular career discussions, you simply need to follow the four steps above. Your small commitment of a few hours each year is likely to create a big return on investment.
We made Career Development Discussions even easier for you. Download our template for a complete guide with all of our recommended questions.